Welcome to our
All Things Dreamy linky party #1
! I'm super excited for the upcoming weeks, as we meet up with fun new people and read about
Dreamy
things all over the globe. Are you ready to get started? Let's go!!!
All Things Dreamy, at Max's Haus
If you are ever in the hill country of Texas, you just may want to plan a trip to New Braunfels and hit
Max's Haus
. Max's is one of my most favorite places to shop, both for myself and for others. As you peruse the pictures below, you'll see just what I mean! Max's is much more intriguing than your typical antique store. It's a combo of amazing vintage finds and incredibly talented artists, with prices that you just can't beat. Each room in the store is unique and so are the treasures that you'll find there.
I am also quite fond of Max's, because of its owner, Norma. Norma has a heart for stay-at-home moms desiring to have a creative outlet. Almost every corner of her store is represented by local ladies (most are moms!) who are given the opportunity to display their wares here, in exchange for very low rent and minimal commission. In other words, Norma helps many of us to have an outside life – three cheers for an outside life! I no longer have the pleasure of selling at Max's Haus, due to our move to Colorado. But, I still have the pleasure of shopping there when I'm in New Braunfels!
Ok, so now onto the dreamy finds that await You, at Max's Haus!
When you see this sign, Stop! It's time to shop...
Here's the store...

The black & white room. I'll take one of each.
I love these artsy signs. They mix well with shabby or mod, priced from $8 to $68
Prior to being a mom, I was a teacher, so this is one of my favorites...
The kitchen. Full of vintage kitschy treasures and gourmet stuff...
I fell in love with this scale, priced at $55
This is a set of paper dolls with all the outfits included! I couldn't find a price...
An original from the Junior Miss pageant. It includes the program and all kinds of other goodies, priced at $38.
This artist's specialty is fun photos of the central Texas area...most are pics from my old stompin' grounds - Austin! Priced from $26 to $30.
This room always has an old Frenchy feel to it. I'm loving the chandeliers - the one on the left is priced at $120.
If you look just beyond the chandeliers, you'll notice this flower art. I don't use flowers much to decorate, but I could definitely use these. Each is so different and adds a ton of character to a room. Priced from $15 to $95.
On your way out, be sure to peruse the lawn and shed areas...more fun & funky things await you!
I hope you enjoyed our little tour of
All Things Dreamy
, at Max's Haus. Now it's my turn to see what
Dreamy
things you all have written about this week...
Here is who we are linking up to this week...join these fabulous bloggers!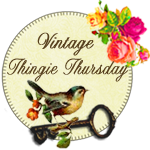 border="0"/>
Laurie with Favorite Things Saturday
Here is how you link up with us...
1) Look for the words "You are Next Click Here to Enter" and click on them. Follow the linking instructions on the Mr Linky page.
2) Copy and paste the All Things Dreamy link button onto your blog, so that others can come by and say hi, if they wish!
3) Leave a comment on my post...you dont'
have
to, but it sure makes me smile!
3) Show some link love by visiting other's links as well - you may just make some new friends for life!