What can I say...I still love the 70's. The music always brings back memories, the clothes were unforgettable and the freedoms that we enjoyed as kids to run and play, made everyday an adventure.
I paid a mere 50 cents for this little treasure and it's worth so much more to me.
It's a copy of People Magazine from 1979.
Looking through old magazines is so enjoyable.
A real pictorial blast from the past.
This particular People is a peek straight into my days of youth (yes, I'm
that
old…).
Check out the cover…
And just inside the cover is this ad for Chaz, featuring one of my favorites, Tom Selleck. He's still as adorable now as he ever was. I miss my Magnum P.I.
There is also a feature article on Brooke Sheilds. I adored her as a kid and I have to say that she's one of the few child stars that ended up growing into a well balanced adult!
Now onto some 70's wheels…
This was the same kind of ride that one of my favorite neighborhood family's drove. I LOVED their groovy van and all the fancy features that it had inside…including shag carpet, of course.
This was the car of my dreams.
Especially in yellow.
The only thing missing is a surf rack on top!

I have to say that I would

still

drive one of these today!

Now onto home décor…

Chandies (aka chandeliers) were in! And they still are!

Remember this? A monstrous hunk of wood to house the TV.

Now that I'm looking at it, I wonder what it would look like if you painted it a nice shabby pink…hmmmm…might be worth investigating!
And finally a little reminder of just how cool Neil Diamond was.
I still love his music.
Right on!
I hope you enjoyed our little groove down this 70's path.
Until next time, keep on truckin'!

Here's who we're playing with today!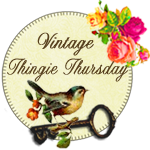 border="0"/>