I have this thing for Matryoshka nesting dolls.
I adore the kitschy-ness of each design and
the colors are always amazing.
I received my first one when I was just 9 years old. My grandmother presented me with one upon returning from Russia –
one of her favorite travel spots.
I have my own little collection that I've pieced together,
but now that I've been playing online, I think my collection (aka addiction) is going to expand.
First, I found this link via Rachael Ray's magazine and here's what I found…

These adorable Matryoshka measuring cups!
But then…on the same site, I really got into trouble when I found these…
And then these...
I decided that
I hadn't been tortured quite enough,
so I ventured over to
Etsy
to see what
my fellow creative divas
came up with, in the world of
Matryoshka
.
I'm not big on wall calendars, but one of these would be right at home in my kitchen!

Look at this yummy wallet. Yes, please!
I'm always on the lookout for cute little change purses - while traveling through Europe, those Euros take up lots of space in my wallet!
It didn't surprise me at all that these brooches are made in Latvia. Europeans have unbelievable skill in making a work of art out of felt. Beautiful!
Oh my.
So now that I see just what's out there,

I want it all!
Send. Help. Please.
Hanging out with these Fabulous Folks!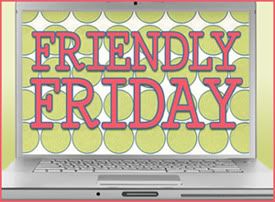 Bargain Hunting with Laurie