This is the year of me giving my house some sweet vintage love.
I'm always quoting to myself that old saying about
'the cobbler's kids are the last to have shoes'.
That's been the unfortunate story of my house.
But hey, I'm not
all
to blame –
moving 3 times in 3 years
may have
something
to do with it.
(

thanks

Uncle Sam…)
Last week I posted a little blog about
some Frenchy-fied mirrors
that I finally painted for our bedroom. I was also pretty proud of the fact that that little décor only cost me @ $54 (compared to the $450 that Anthropologie wanted).
This week I moved down to the living room and the best part of this reveal is that the total re-do tally is $0 !!!
Zip. Nada. No dollars.
Woohoo!
Here's how it goes…

I found this set of plates for free.
Yep, free.
It's a good thing that my friend Britney wasn't with me, or
there just may have been a cat fight
over these. No, not really. Brit and I are both southern sweeties.

Fighting = gross.
I've tried like crazy to look up some info on these. They are English and the maker's mark is very clear, but I can't find much of anything on them – even on English sites. Hmmmm….

All I know is they were FREE and they are adorable = score.
Part II…
I have a monster collection of old frames, all waiting to be loved again.
My husband is developing a twitch every time I come home with a new one,
so I'm really trying to find homes for each of them lately.

I pulled this one out of the pile…
A hammer and a few nails later, and I have some sweet shabby living room décor…
LOVE it!
Now I'm onto the bazillion things I have to conquer this week…mailing orders, booking flights for EUROPE
(extreme excitement)
, prepping items for auction, updating the website, and let's not forget that I'm a MOM and WIFE.
Oh my.
No wonder I don't get to blogging as often as I would like…
Check out the new shop & have a

blessed

week!
As always, thanks for tuning in!
Sweet Linkys...Come & play!
BLOGGERS' BODEGA via Vintage Vixens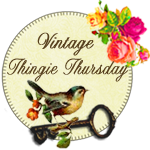 border="0"/>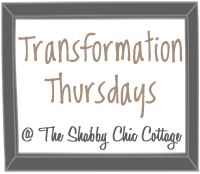 Vintage Inspiration Fridays @ Common Ground