hi Friends!
I'm finally writing to you from "across the pond"!
Ahhhhh...even if the skies are thick with a murky overcast, it's great to be in the land of
divine chocolates
and
pristine coffee
!
Sweet Angela greeted me with a treat - this precious vintage leather canteen.
She knows me well!
I just landed this morning, but as always,
we've already hit the pavement
, finding fun vintage trinkets to bring back!
Here are a few shots from today's shopping ventures...
Check out this custom set of dinnerware.
How blessed were Lara and Maxi to receive this as a wedding gift?
Then we ran across these hand-painted jars. Adorable.
And of course we have to add some shabby into the mix.
Look at these elegant vintage doilies.
Oh. My.
Well, it's only been 23 hours since I've slept last, so I'm going to say
Guten Nacht for now!Stay tuned for more fun from...Across the pond!
Want a peek at more vintage treats?
Visit Suzanne @ The Colorado Lady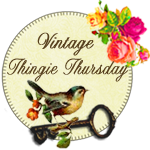 border="0"/>
and...
Debra @ Common Ground